Snorkel Tours
Grand Cayman
       It is no secret that the Cayman Islands is home to some of the best snorkeling in the world. When you take one of our snorkel tours in Grand Cayman, you will get to explore various sea life and beautiful coral reefs. The shimmering, blue water surrounding Grand Cayman is clear and can become so calm that it feels like your swimming in a pool full of fish. With the majority of our snorkel sites being no deeper than 10 -15ft and all of the sites having such great visibility, snorkeling can be such an amazing experience for all. Read about the different snorkel locations offered, the diverse sea creatures you can witness and all that we do to make snorkeling a memorable time for all. Click here to view our other stop options, in addition to snorkeling.  
Various Snorkel Sites to Visit on Your Tour
       Our company offers a wide array of snorkel locations to visit here in Grand Cayman. We can fill an entire day with just snorkeling if this is what you're looking for in a charter. Offering some of the more common sites such as the Coral Gardens and Rum Reef. The coral Gardens being the better option for first time snorkelers. Both sites are located near the world-famous Stingray City Sandbar, which we encourage our guests to snorkel at as well, if chosen as a stop option.
       We also visit a snorkel site called Deep Stingray City, also known as the original Stingray City. This is where the majority of the stingrays in Grand Cayman used to gather and interact with people before the current Stingray City sandbar. Captain Jason's mother was photographed, during her time as a divemaster, at Deep Stingray City. She was  featured on the cover of the January 1989 edition of National Geographic's. Although this site isn't as known for its stingrays any longer, it is one of the best snorkel sites to visit to see a large variety of different sea life. In addition to these 3 snorkel sites, we have many more, unnamed snorkel sites to take you to. Our local Captains love to explore new possible snorkel sites, inside the North Sound, during their down time. These hidden gems are perfect for snorkeling untouched areas, off the beaten path and away from the crowds.
       During a 6hr charter or more, on a flat calm day, we can take you to some of the great snorkel sites located outside of the protective, reef barrier of the North Sound. Around the Northwest point of the island, on the 7mile beach side of Grand Cayman, we can visit reefs such as Eden Rock or Cheeseburger Reef. We can also snorkel more historic areas such as the Wreck of the Cali or the USS Kittiwake sunken ship. Although the Kittiwake sunken ship is 60ft deep, we are still able to see it perfectly while snorkeling due to the clarity of the water in Cayman. Click here to read more about the Kittiwake and Wreck of the Cali. The last type of snorkel site offered is a night snorkel, inside of the Bio Bay, to splash around with the light emitting bioluminescence. These bioluminescence are only visible during certain moon phases of each month. Grand Cayman is one of the few places you can view these amazing organisms in the entire world. To read more on the bioluminescence, click here.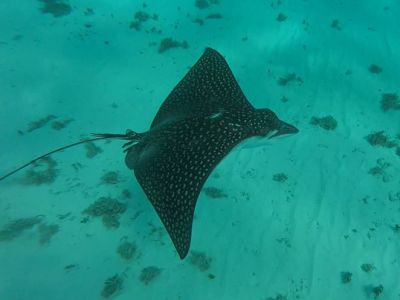 We were lucky enough to capture a photo of this beautiful Spotted Eagle Ray, during one of our past snorkel tours.
What Can You See During Our Snorkel Tours?
       We show our guests an abundance of different coral and sea life during our snorkel tours. Here in the North Sound, we snorkel the barrier reef along the bay and numerous patch reef systems. These patch reef systems consist of large coral heads in close proximity of each other. There are many types of living coral at these reefs such as Brain Coral, Staghorn Coral and Fire Coral. Also soft corals such as Sea Fans and Sponge Coral. You should never stand on any on these coral heads or touch any of the coral. Not only can certain corals burn or scarp you, but these corals can break off and die when touched as well. We also always recommend using Reef Safe or Biodegradable sunblock during your snorkel as not to destroy the coral with harmful chemicals found in other sunblock's. If we do not have coral then the fish and other sea creatures will disappear and without coral or sea life, we would not have snorkel tours for our guests to enjoy. It's all an underwater balance, just waiting to be explored.
       You will see many different types of fish and other sea creatures during our snorkel tours. Each snorkel location usually containing a few different species. It is pretty much guaranteed that you will see large schools of Sergeant Major and Blue Tang fish while snorkeling at any location. We also see other varieties of tropical fish such as colorful Parrot fish, Snappers, Jacks, Chubs, Squirrel fish and so much more. You may also see pairs of Angelfish, swimming together around the coral, as these are one of the few species of fish that mate for life. Occasionally we also see barracuda, grouper, pufferfish and flounder going about their day in the ocean.
       As for some of the other types of sea creatures you can spot during your snorkel, it is very likely that you will see a Southern Atlantic Stingrays during your snorkel. These are the same type of rays that congregate at the Stingray City Sandbar. To read more on these Stingrays click here. We also often observe Green Moray Eels and periodically Spotted Eels. If you are one of our lucky guests, you may also get the chance to witness a Nurse Shark, Eagle Ray, Lemon Ray, a Lobster or even a turtle. The 3 types of turtles seen around Cayman are Hawksbill turtles, Loggerhead turtles and Green sea turtles. Although it is seldom that we see these sea creatures, our local captains know which snorkel sites are the best ones to higher your chances and where we have witnessed them during past charters.
Who is Able to Participate in Snorkeling and How Does it Work?
       Snorkeling is an awesome way to see some of the great wonders Cayman has to offer. We invite all ages and all levels of swimmers to enjoy a snorkel tour with us. Whether you are a first time snorkeler or avid snorkeler, we have a snorkel site to fit everyone. Our goal is to always make sure our guests feel comfortable in the water and well taken care of, at all times, during their charter. Either the Captain or First Mate will always be in the water with you to make everyone feel safe, lending a helping hand if needed. He will help guide you to the best spots of the reef and point out different sea life you may not spot on your own. We will even hold your hand through the whole snorkel to help you feel at ease.
        The Cayman Snorkel Company provides all snorkel gear for our charters, including masks, snorkels and fins. We even have snorkel gear for young children. Our boats are also equipped with ski jackets for all the way down to 2yrs of age, inflatable snorkel vests and pool noodles for anyone wanting a little extra help. We are always sure to anchor safely right next to each reef we visit. This is so that our guests will not have to swim to the reef to begin exploring or have to venture to far from the boat if they are not comfortable in doing so. Just jump right in and experience the wonders of the ocean. This is especially helpful when we have young children that want to try snorkeling for the first time. We put out a life ring floating in the water, tied to the boat, at every stop. This not only allows for a faster response to anyone feeling fatigued while snorkeling, it also gives the option for young children to hold on to either this ring or our back platform and try out the snorkel gear. Our past young snorkel guests love to hold on to the life ring, float in the water, looking down at all the fish with the masks and even practice using the snorkels.