We offer Stingray City and Snorkeling Tours!
Private boat tours with custom itineraries in Grand Cayman.
Customize your itinerary for your private boat tour. Experience the world famous Stingray City and snorkeling tours to various coral reefs, Starfish Point, tubing and so much more. With so many stop options and activities to choose from, you are guaranteed to put together an itinerary the whole family will enjoy.
Family owned & operated.
See All We Have To Offer
WE STRIVE FOR EXCELLENCE BUT DON'T JUST TAKE OUR WORD FOR IT...
Stingray City Sandbar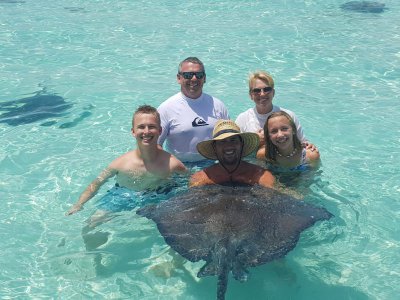 Stingray City is a natural sandbar, about 5 miles from shore, where wild stingrays gather to be fed. These stingrays come to the Stingray City sandbar daily of their own accord, with no nets or objects to keep them there. Here you can stand in the waste deep water while one of our expert captains help you to interact with one of these friendly stingrays.  To learn more information about the Stingrays at the Stingray City sandbar click here.