Experience paradise with the best
Request Reservation
Experience paradise with the best
Request Reservation
Experience paradise with the best
Request Reservation
Experience paradise with the best
Request Reservation
Experience paradise with the best
Request Reservation
Experience paradise with the best
Request Reservation
Experience paradise with the best
Request Reservation
Experience paradise with the best
Request Reservation
We offer Stingray City and Snorkeling Tours!
Private boat tours with custom itineraries in Grand Cayman.
Customize your itinerary for your private boat tour. Experience the world famous Stingray City and snorkeling tours to various coral reefs, Starfish Point, tubing and so much more. With so many stop options and activities to choose from, you are guaranteed to put together an itinerary the whole family will enjoy.
Family owned & operated.
See All We Have To Offer
WE STRIVE FOR EXCELLENCE BUT DON'T JUST TAKE OUR WORD FOR IT...
We booked our charter based on previous reviews and they were all accurate. The boat is in pristine condition, we had Five star service, and Jason and Alex were knowledgeable and enjoyable to spend the day with. A private charter to stingray city, starfish point and snorkeling is the way to go!!
"
"
View us on TripAdvisor
Jason & Tanner were great hosts on the boat. Very knowledgeable about the island as they both grew up in the Caymans. We loved sting ray city and the snorkeling was absolutely gorgeous.
"
"
View us on TripAdvisor
Jason & Alex took care of us and made sure we had the best experience. A great day swimming with the stingrays followed by snorkeling, starfish and topped off with a famous mudslide. We didn't want to go with a large group and wanted to be on our time and today was perfect! Highly recommend them.
"
"
View us on TripAdvisor
We were a group of girls who whose day was even better than anticipated! Captain Jason and Tanner were so fun and accommodating. Amazing time at Stingray City, snorkeling, and drinks at a local bar. Good music on the boat. We requested one change to our itinerary and they made it easily happen.
"
"
View us on TripAdvisor
We had an absolutely awesome day on the boat with Jason! He was knowledgeable, friendly, and laid-back. We loved the visits to Stingray City and the snorkeling site. Highly recommend this company!
"
"
View us on TripAdvisor
We really enjoyed our day private charter with Jason and Alex. the boat was clean and ready to go on time., The captain Jason and first mate Alex went above and beyond to make our charter special. They know all the right places and the times to get there to beat the crowds. We would highly recommend them to anyone - and their prices were very reasonable as well.
"
"
View us on TripAdvisor
We got to hold string ray, snorkel two reefs and caught a barracuda! All in one day! Very talented captain and mate!
"
"
View us on TripAdvisor
We had a large group charter a 6 hour trip with Cayman Snorkel Co. We went to Stingray City, snorkeled and Starfish Cove. Captain Jason and Alex were very hospitable and knowledgeable and just fun guys to hang out with for the day! Everyone in our group loved the experience!! Thanks again Captain Jason and Alex!!
"
"
View us on TripAdvisor
Captain Jason gave us a wonderful day, we had mixed ages including 3 kids (10,2 &1) every person had a great day. Highly recommend!!!! We will go back!
"
"
View us on TripAdvisor
The captain and 1st mate were the best! Helpful. Flexible. Relaxed. Friendly. I felt safe and watched over. Which was especially comforting since I was waaaaaayyyy out of my comfort zone. Enjoyable. Memorable.
"
"
View us on TripAdvisor
Coral Reef Snorkeling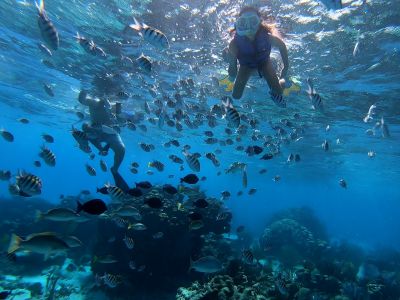 Grand Cayman has some of the best snorkeling in the Caribbean. Explore our beautiful coral reefs, being one with the ocean and all its sea life. One of our staff members will always be in the water with you to help guide you so you don't miss out on all there is to see. Click here to read more on the different snorkeling offered by us.
Stingray City Sandbar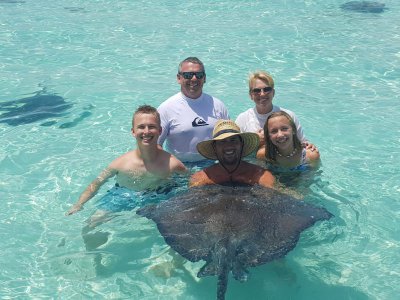 Stingray City is a natural sandbar, about 5 miles from shore, where wild stingrays gather to be fed. These stingrays come to the Stingray City sandbar daily of their own accord, with no nets or objects to keep them there. Here you can stand in the waist deep water while one of our expert captains help you to interact with these friendly stingrays.  To learn more information about the Stingrays at the Stingray City sandbar, Click here.
Starfish Point