Everything You Need To Know & More
Whether your group wants to visit Stingray City & snorkel coral reefs or explore Starfish & do some tubing, you're bound to find activities the whole family will enjoy.
Where Do We Leave From?
We leave out of the Cayman Islands Yacht Club. This is anywhere between a 5 – 15 minute ride for any of our guests staying along the 7 mile beach area. If you're coming in on a cruise ship, it's only about a 15 minute ride from the cruise ship terminal. We can also pick up at most private docks within the North Sound.

For our guests staying in the Rum Point / North side area & in the East End area, we would be happy to meet you at the Kaibo restaurant dock instead, no extra charge.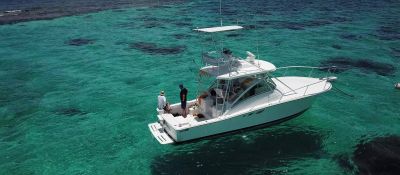 Charter Length
We offer 3, 4, 6 & 8 hour private charters. Amount of activities done during these charters vary due to location & your enjoyment of them. Our guests are welcome to spend as little or as long as they wish at each activity. We go at your pace.
---
3hr Private Charter :

Enough time for 2 customizable stops.

4hr Private Charter :

  Enough time for 3 regular stops, usually consisting of our most popular stop options. Stingray City & snorkel a beautiful coral reef along with a stop at Starfish Point. This is fully customizable if you had something else in mind.

6hr Private Charter :

This is one of our most popular charter options & is enough time for 5 regular stops. This charter is also perfect for getting to experience some of our farther out, "off the beaten path" snorkel options.  

8hr Private Charter :

Usually enough time for 7 regular stops. Great for getting to see most of what Cayman has to offer while spending a fun day on the water. 
Activities To Choose From
We provide private boat charters tailored to the interests of your group. Visit the world famous Stingray City & snorkel coral reefs. Stop for a mudslide at a beachside restaurant or go tubing. Here you will find all of the information you'll need to create the perfect adventure.
Stingray City Sandbar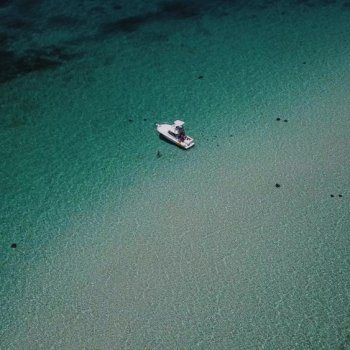 Home to the largest congregation of Southern Atlantic stingrays in the Caribbean. This shallow sandbar is protected by a barrier reef and located approximately 5 miles off shore. Stand in waist deep water surrounded by docile, wild stingrays. Our local captains with a lifetime of experience in holding the rays, teaches you about the history of the sandbar. Your captain will help you to pet, hold and kiss one of our stingray friends. Stingray City has been voted the number 1 thing to do on the island by TripAdvisor. If you haven't visited Stingray City yet, we highly recommend you do. Click here to read more about the Stingray City sandbar and the stingrays that live there. 
Coral Reef Snorkeling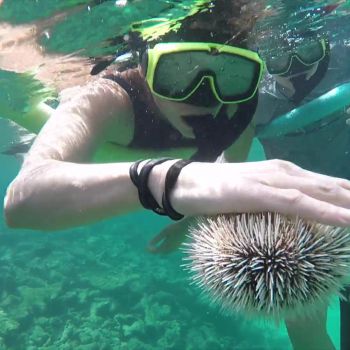 Cayman is home to some of the most beautiful snorkel sites in the Caribbean. We have a large variety of great snorkel locations where you can view different types of radiant coral. You will also see an abundance of colorful sea life all around. If snorkeling is the reason for your trip, we can fill an entire day with different snorkel sites for you to explore with all the gear included. We can go to some of the more common snorkel spots like the Coral Gardens and Rum Reef. We can also visit some of the "off the beaten path" spots. These are well known to our local captains, growing up on these waters. Click here to read more about our snorkel stop options.  
Starfish Point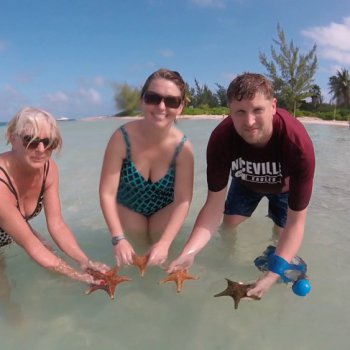 A secluded beach accessible by boat. Here you can hold live starfish under the crystal clear water. This spot is a favorite amongst young children. They can sit in the shallow water while getting a chance to touch one of these neat creatures. We always make sure each of our guests get a chance to hold their own starfish (under the water). One of our captains can share information on our red cushion sea stars and answer any question you may have. Starfish Point is also a perfect spot to stop and have a picnic or some drinks, just hang back and relax.  To learn more about Starfish Point & the sea stars that live there, click here.
Lunch / Drinks Stop Options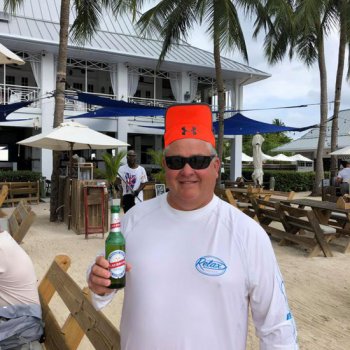 If you get hungry or just want to stop for a few drinks, we can go to one of the beach side restaurants accessible by boat. Both Rum Point & Kaibo are known for their mudslides and relaxing beach atmosphere. For our guests staying on the North side of the island, we have a few great restaurant options for you too. Visit either Tukka West or Calypso Grill for a lunch /drinks stop on the water. If you don't want to stop for lunch and just want to bring some food or alcohol on the boat, you're more than welcome to. You may want to place an order with Fosters Food Fair for one of their made to order platter options. We provide bottled water & sodas in a large cooler full of ice. You're welcome to store any items you bring and wish to keep cool in our cooler.  
Sunken ships & Wrecks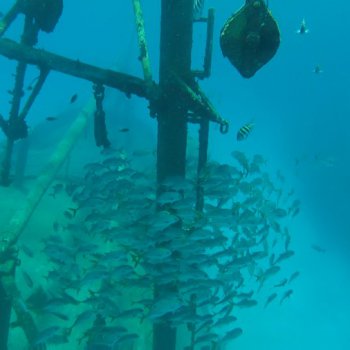 During a 6 or 8 hour private charter,  you would have enough time to snorkel one of the ship wrecks. These wrecks are located around the Northwest point of the island. Snorkel & learn the history behind the Wreck of the Cali or the USS Kittiwake sunken ship. One of these stops does usually take up more time than 1 of our regular stops. They are also subject to weather as they are located outside the protected reef of the North Sound. 
Mangroves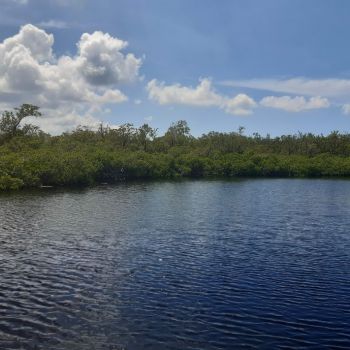 During your charter with us, you may opt to cruise around to see our beautiful mangroves. This scenic stop option, gives you a chance to view and learn about the vital role these plants play with all local wildlife. We are unable to snorkel around these mangroves as they are protected breeding grounds for the sea life around Cayman, but this stop makes for a relaxing, scenic boat ride. This stop option doesn't take up much time and is a great option to add on if you were looking to see and learn a little something extra during your time with us.
Trolling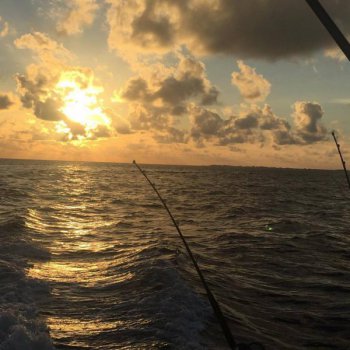 If you like the idea of fishing but don't want to miss out on a snorkel stop or Stingray City, trolling may be the ideal add on for you. All of our charters have the free option to troll for fish on the way to each stop. The captain or first mate will put out a few lines off the back of the boat while cruising to your next snorkel site. Reel in Barracudas, Snapper and a variety of Jacks. This free add on can be done during any duration of charter without taking up too much time from other fun experiences. Please let us know if you would like this option so all gear can be provided during your time with us.
Reef Fishing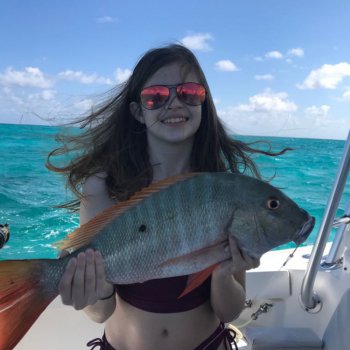 If you would like to try your luck at some light tackle reef fishing, we can do that too and for no extra charge. Anchor up, drop a line  & fish for Jacks, Barracudas & a variety of Snapper. It is up to your group if you would like to just have some fun with catch & release or if you would like to take your catch with you to have for dinner. If you would like to take your catch home with you, the captain & mate would be happy to filet your fish for you. Reef fishing usually takes up the same amount of time as 2 of our regular stops. Please let us know if your would like this free option before your charter so all gear & bait is ready for you. 
Bioluminescent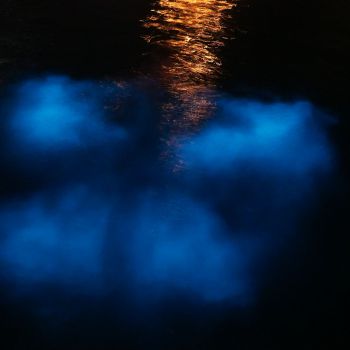 Tubing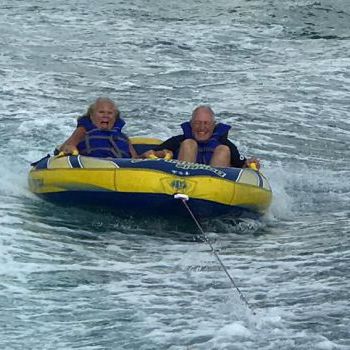 Tubing is just another fun & free add on we offer. This option is only available on our boat Hatchling. Tubing can be done during any duration of charter. You are able to spend as much or as little time you would like tubing. This option may take up the same amount of time as 1 or more regular stops, depending on your pace. Please let us know if you & your family would like to add this free stop option to your charter experience so we can have equipment available for your enjoyment.